Wrap Up: July & August 2019
Wrap Up: July & August 2019
It's been a bit of a weird one but here I am at the end of August. Having completely skipped July. Here to document my thoughts on the previous months – my challenge (remember that) – and what's been going on elsewhere!
Writing Update
I've made steady progress on my book and the end of the third draft is in sight! Really and truly this time! I'm currently building the chapters back up to hit my new word count of 80,000 words. Currently, I'm resting at a cool 76,425.
What I've been struggling with is mostly confidence in what I'm working on. I've barely shared it with anyone and mix that with the length of time I've been working on this thing, I get really nervous picturing the moment different people in my life read it for the first time.
Mostly, I picture points and laughs and a bunch of my hard work thrown back at me in a burst of paper and ink. But that's probably my brain just being horrible to me.
This has made progress a little unsteady and I've got little confidence in the things I have written! But ever the typing machine, I'm working through it as best I can. I'm sticking to my plan and getting the words down, building the story up and getting it ready for a cheeky fourth edit after I go away in September.
I've really powered through the summer. My energy level has been low but I'm desperate to finish my draft. I want to move forward now, it's time! I can't wait for the next step of my writing journey (and perhaps some new exciting projects that are on the way.)
Books
I'm not on schedule with my Goodreads book challenge but I'm definitely making a good go of it! Here are the books I've read so far this summer.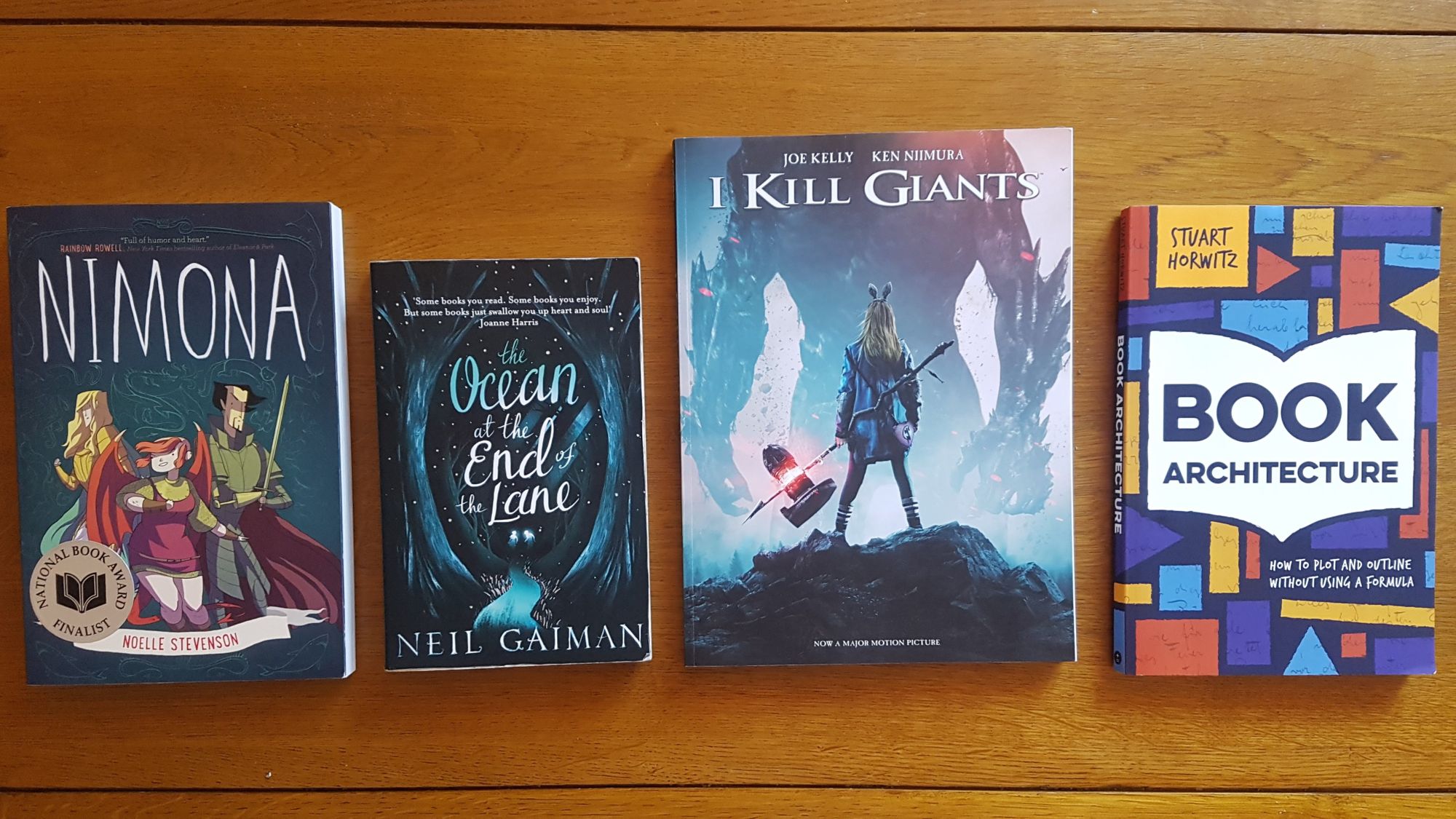 Nimona by Noelle Stevenson is a wonderful graphic novel. It hurt my heart, made me laugh, kept me turning the pages (and gave me a bunch of paper cuts.).  If you like well-built, simple stories, LGBTQ+ themes and bad-ass title characters, give this a go!
---
I Kill Giants by Joe Kelly also hurt my heart. This is a theme that spreads across all the books I read this summer. I was trying to read books that have been on my to-read list for ages! They just all seemed to be a little heart destroying. I Kill Giants is great. It's very raw and the illustrations are lovely. If you like coming-of-age tales, with an emotional storyline with strong fantastical elements, this is for you!
The Ocean at the End of the Lane by Neil Gaiman needs no introduction. It's Gaiman and we love him here. I read this book in a day and could not put it down! It's a David and Goliath story told from a small boy's point of view. If you like Gaiman, read this. Like fantasy? read this. If you like stories, read this.
Book Architecture by Stuart Horwitz. This is a book for writers. It is one of those 'this-is-how-you-should-write-your-novel' books. It differs from other writing books using 'series' and theme to decipher the arcs in your stories. I've been doing the exercises to analyse my work-in-progress and it's given me some insights that I might not otherwise have had. If you're on a second/third draft of any piece of fiction (short, long, simple, complex) this book might help you figure out what's important in your story.
Favourites: Wrap Up: July & August 2019
Swimming in the Welsh Sea! Super hot weather, super cold sea!
Beer in the Sun. Sun's out, beer bellies out!
Making Plans for the Winter. I know we're not there yet but still…
Soy Yoghurt for Breakfast – With seasonal berries, om nom nom!
Jane the Virgin – Series Finale – Did you cry? I cried!
Sims 4 – That's right… back on the Sims Train! Not sorry!
My Beauty Kitchen – Lush gave me a rash so I'm back here again!
New Notebooks. Three new moleskines this summer! Lucky me!
Klean Kanteen Water Bottle. Keeping me hydrated!
Know the Origin – This website has given me great wardrobe basics.
Wellness Challenge
So, I stopped doing the challenge. But it's not what you think! Honestly! I really liked doing the Wellness Challenge but after the first week, I realised I wasn't being challenged. Everything that it was asking me to do, I was, in some way, doing it anyway. So, I struggled to document every day because I didn't feel the change and eventually I just didn't document at all. I'm sorry! Let's look at it this way, the more challenges I fail, for whatever reason, the more I can hone in of the type of challenge works best for me. Or something…
Goals for September
In September, I'm going to Seattle and the surrounding area for three weeks. So, my main goal is to explore and have a great time. I'm also going to have a sketchbook so another goal is to fill that completely with ideas, drawings, stories and thoughts that fall into my mind whilst away. There's only one rule: No Novel!
Before that, though, I've got to finish my third draft. Something which the first week of September is all about. So that's about it for our wrap up: July & August 2019
If you still want to know what my Wellness Challenge was: Click here!
Or if you want to read about my year so far: Here.
As always, thanks for putting up with me!